Blood, sweat and vodka – This is Creamfields Abu Dhabi.
By Michael Boyle
Event: Creamfields Abu Dhabi 2013
Venue: du Arena, Yas Island, Abu Dhabi
Date: 13 December '13
Artistes: The Prodigy, Calvin Harris, Above & Beyond, Disclosure and others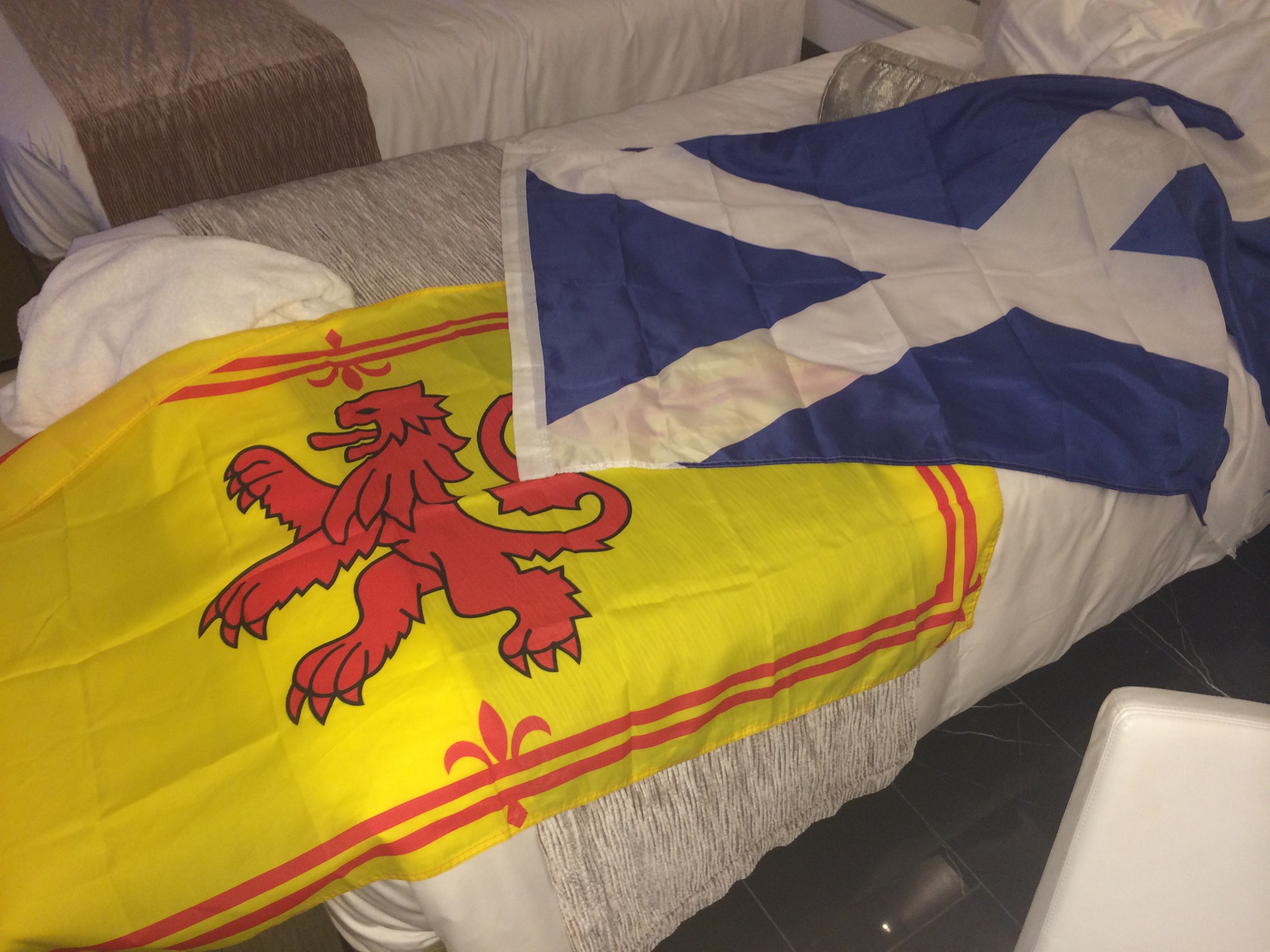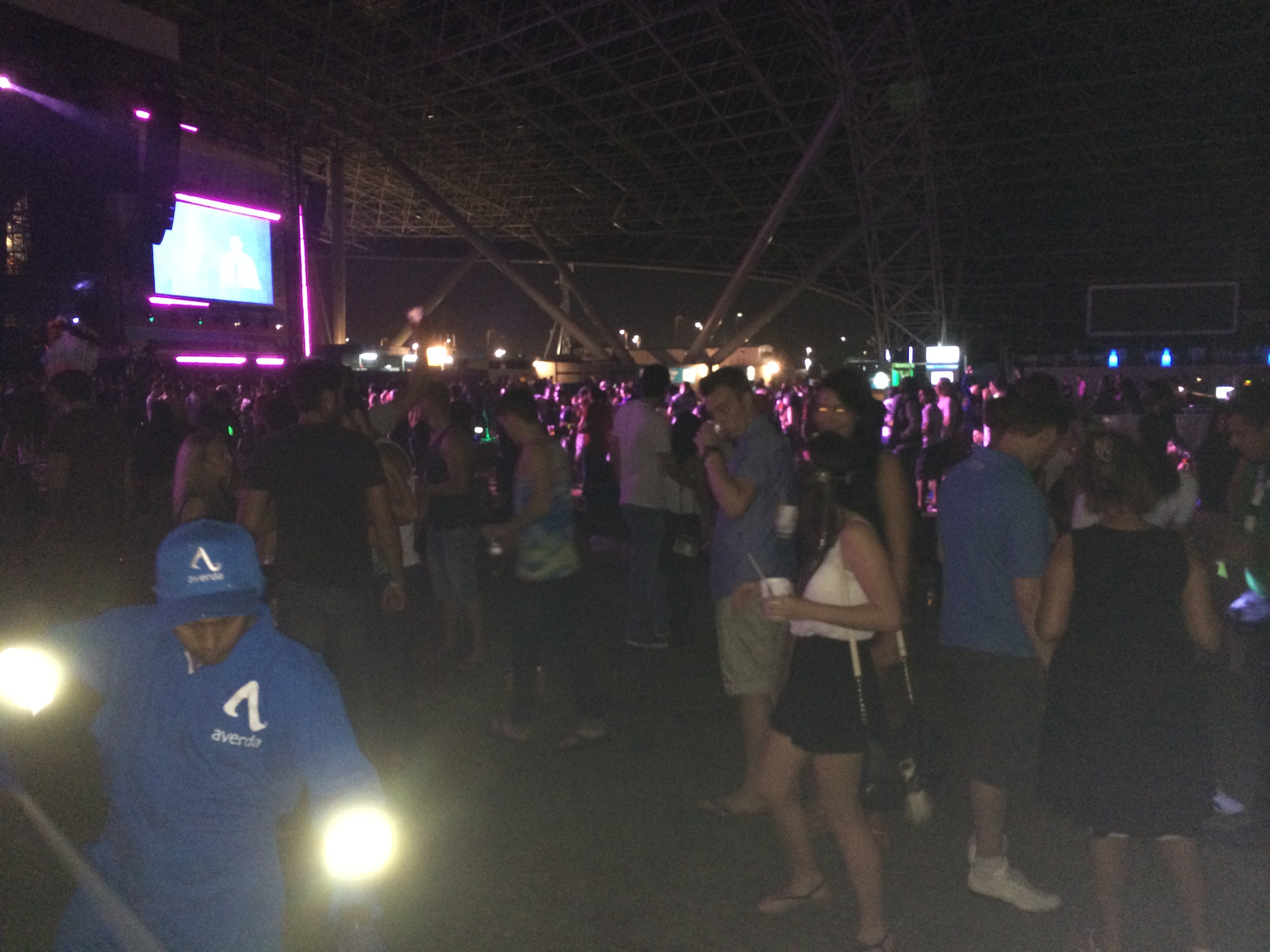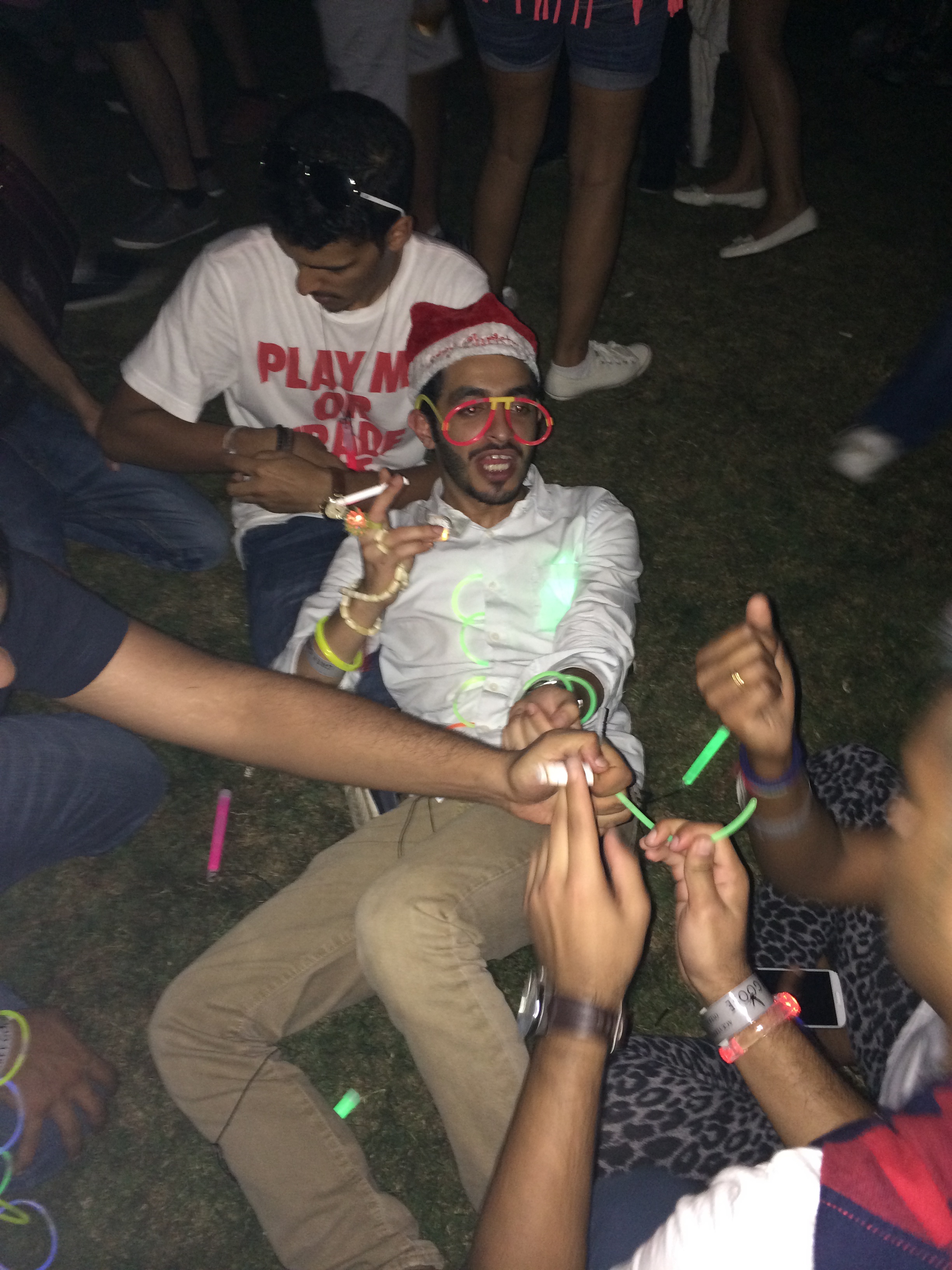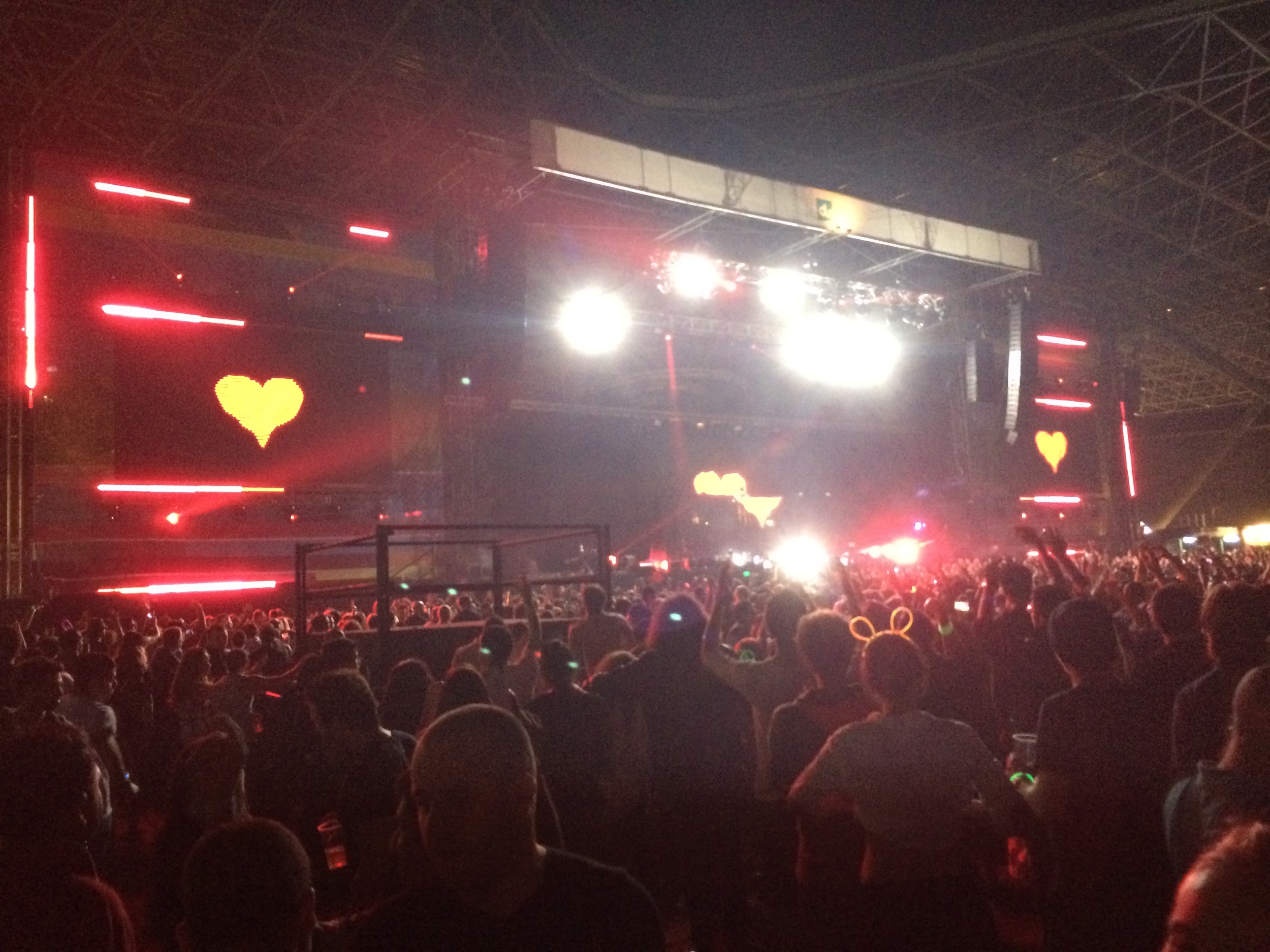 The legendary Creamfields rolled in to Abu Dhabi this past weekend for the 5th year running. It was my first time attending the Abu Dhabi leg of the world tour and I had no idea what to expect.
The raving, drugs, excessive drinking and sex in a field of the famed UK leg of the tour seemed a million miles away. How different would Abu Dhabi, an extremely conservative Islamic city, be?
As it turns out, not much different, with the obvious exception of the drugs and public sex.
We checked in to the Viceroy Hotel, the one that's the same shape and colour as a blob of mercury and straddles the Abu Dhabi F1 track. The festival atmosphere was already obvious upon check in, with some of our fellow guests arriving wearing shorts and neon colours, carrying bags giving off the telltale clink of a pre-game cargo. We didn't spend much time in the hotel before heading out. Just long enough to polish off a litre of vodka between 3 of us and destroy the room with giant sausage shaped pillows.
And in the midst of the vodka pillow fight, we named ourselves Step, Splosh and Squelch. Don't ask why. But that marked a good start to the night.
We had a little trouble when entering the venue. In order to be granted access to the bar, we had to provide ID to prove that we were over 21. I had my local ID and got a wristband without any incident, but both my friends had only brought their UK driver's licenses and this, unbeknownst to us, wasn't considered "valid ID". They expected us to come to a fucking FESTIVAL, carrying our passports, the most important document we own, in order to gain entry to the bar?
After a bit of arguing and offering security a 500 dirham bribe, Step was given a wristband because "he looks over 21", but Splosh was denied access and we were warned that we'd be charged with supplying a minor if we were caught buying her a drink.
We got lucky though, because it turned out that security at the bar area had different rules from security at the entrance, and Splosh was given a wristband without so much as a funny look from security. Weird, but danger averted.
As we came out from the bar, double-fisting double vodka and Red Bulls and hurting at the fact we'd just paid over US$180 for 6 drinks, the sheer scale of the event became obvious.
It was held in the Du Arena, an incredible semi-outdoor venue, incorporating 2 of the pointy legs at the sides of Ferrari World into its construction. There were tents where we could buy random festival shit like glow sticks and masks, tents promoting brands such as Zippo and some kind of vodka, 2 stages, one small one for local DJs and the big one for the main acts, grass under foot, something like 20,000 drunk people everywhere and a generally laid back vibe.
Me and Step were sporting the typical festival uniform - giant Scotland flags draped around our shoulders like capes. The amount of attention we got from people commenting on our flags was amazing. We got some negative chat from our neighbours south of the border, which we brushed off with a "You're just jealous cos we're better than you," chuckle, and we got so much love from fellow Scots, and a whole planet of other nationalities shouting things like "FREEEEEDOM!!" and other Braveheart-y, stereotypically Scottish phrases.
It was at this point that Above and Beyond took the stage and broadcasted a message on the giant screens saying, "What makes this festival truly special is how international we all are ... Welcome home."
Four more vodkas and that would have brought tears to my eyes.
It's a shame that Above and Beyond were only on stage for what seemed like 15 minutes of what was supposed to be an hour-long set. We actually had no idea how long they played for because we didn't recognize any songs and at no point were all 3 members of Above and Beyond on stage at the same time.
But I digress, because we weren't there to see Above and Beyond. We were there to see my compatriot Calvin Harris and the legendary founding fathers of Drum and Bass, The Prodigy.
We sort of lingered around the bar area during the Disclosure set, which from memory was pretty damn good. Great atmosphere, brilliant technical skill on the decks and, of course, lots of dancing. Most of my $30 drink got spilled, but it was fine. I was too busy dancing like a chihuahua on acid.
After a few vodkas and a preemptive piss, we fought our way to the front of the crowd for the start of Calvin's set. It was cramped, but tolerable, but this wasn't to last.
As soon as he took the stage, we found ourselves being relentlessly squeezed against the people in front by an army of squealing women and their stupid boyfriends with no festival etiquette. Everyone knows that one doesn't simply barge through to the front like a giant inebriated icebreaker ship. One slowly makes progress, waiting for someone in front to move then taking his or her place. This is festival etiquette. Abu Dhabi doesn't understand this very simple concept.
Calvin played a damn good set. I'm not the biggest fan of his cheesy brand of techno, but he put up a good show for Creamfields. Sweating, falling around and waving our giant Scotland flags in the air, not giving much thought to the people behind us who probably wanted to have a look at the stage, we went properly mental.
Suddenly, this dude with a white mask started severely defying the aforementioned festival etiquette and forcefully trying to get in front of us, actually being violent about it and trying to pull us backwards out of our spots. Step, like a true champion of festivals, bit the offender's arm as I elbowed him in the guts and pushed him back. This went on for about 4 songs before the heat and dehydration started to get to us, so we tried to make our way back to the bar.
White-mask dude pushed my friend as we were leaving, elbowing me in the process, so I gave him what's known in Glasgow as a "Glesga kiss", a head butt right between the eyes. We got out of there quickly incase security or CID saw it, but I hope I ruined his night.
After a half hour recovery and rehydration period, The Prodigy took the stage and we were right back in the thick of it. They started off with Poison, probably their best song ever and an absolute treat to watch and hear live.
Looking up at the stage as Keith jumped around, it was hard to believe that the guy's 44 years old now. He's still in great shape. The classics kept on coming with hits like Firestarter, Voodoo People and No Good. The Prodigy was an audio and visual masterpiece, my highlight of the festival.
Unfortunately it got cut short for us. I came down with an attack of severe acid reflux - thanks a lot, vodka - and my friend who suffers from diabetes had a hypo but had left his insulin in the hotel to avoid losing it.
So that was Creamfields for us.
A drunken 4-mile walk later, we fell into our hotel room, collectively hoping that I wouldn't be too fucked to drive back to Dubai in the morning. Luckily, I didn't die, which is why you're reading this article.