Scotland – The Glasgow Whisky Trail.
By Michael Boyle
Photos: Michael Boyle, John Irvine and Ahmad Salim
Bars visited:
The Ben Nevis, Dram, The Doublet, Oran Mhor, The Griffin, Steps Bar, The Pot Still, Babbitty Bowsers, Maggie Mays
Event Rating: 5/5 (The shite weather had nothing on us)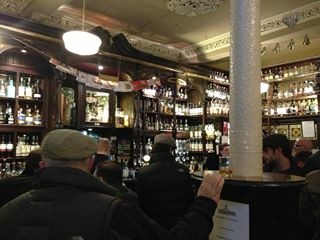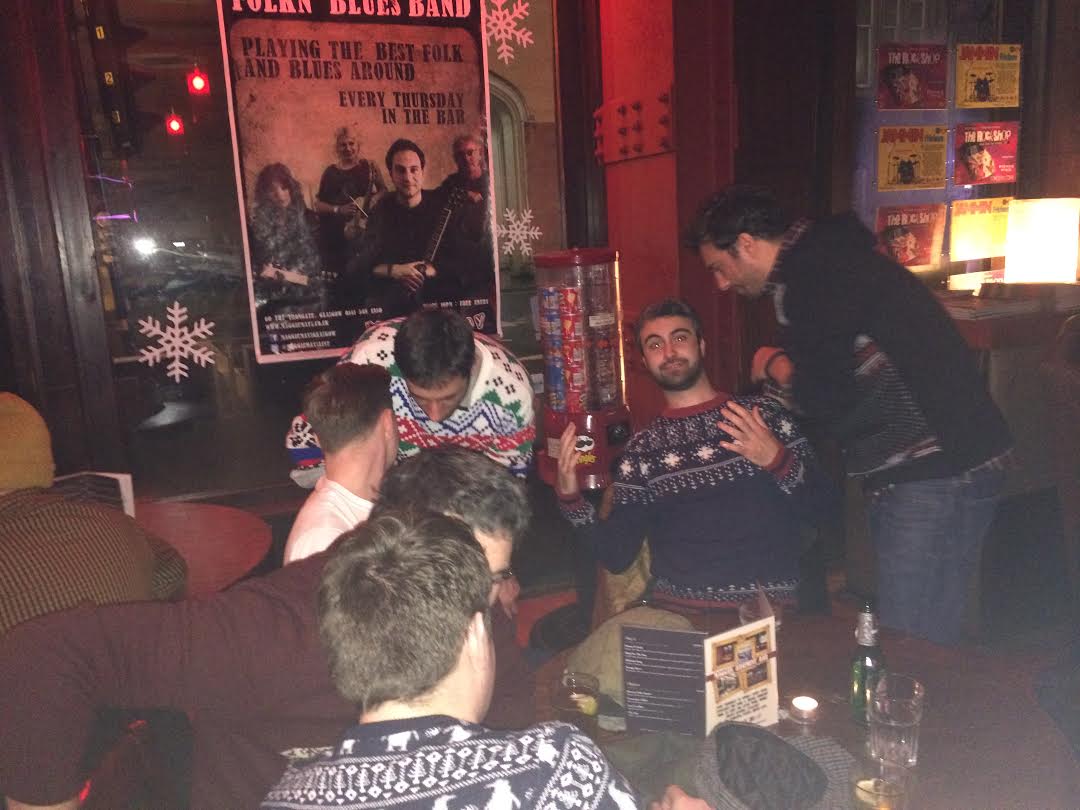 Since I recently spent 2 weeks in Scotland for Christmas, I thought it would be appropriate to document the highlight of my entire year – The legendary Glasgow Whisky Trail.
It's an annual gathering where all the men on my mother's side of the family and any friends who like a good malt and are man enough to brave the shit weather that Glasgow's famous for, have an epic reunion where we travel through Glasgow on foot, stopping at all the city's finest malt whisky establishments along the way.

It's a day when any differences we've had throughout the year are replaced by laughs, love and most importantly, aqua vitae. A jolly old gang of family and friends, we go at it whatever the weather. We've endured snow, ice, wind, rain, hailstones and, to our horror, some sunshine too.

Founded in its current format by my uncle, godfather and dear friend, John Irvine, the Whisky Trail has taken place on a day between Christmas and New Year, every year since 2008. Our last outing was on Sunday December 19th.

Don't think for a moment that the Whisky Trail is exclusive. It's open to absolutely anyone, although traditionally it's a male-only event. The banter isn't always family-friendly, so the wives and girlfriends usually opt to sit it out. One thing that must be noted, however, is that tradition states that all attendees must be dressed a certain way. We've had suits and ties, kilts, bunnets (a type of Scottish hat), Christmas sweaters and all sorts over the years. For The Trail to be authentic, participants must adhere to the dress code agreed on in advance of the trail.
You've been warned.

The journey begins at the usual meeting point – The Villa Hotel in Hamilton. Tea, coffee, breakfast rolls and, when it's time for the bar to legally serve booze, the first dram of the day. From there we walk to Hamilton West train station and board the great iron horse into Glasgow, hip flasks filled and at the ready.

Our train stop is Exhibition Centre, and from there we have a 10-minute walk along Argyle Street to The Ben Nevis. A fine whisky establishment and my personal favourite, they boast an impressive wall covered in shelves full of different malts, a real wood fire and funky croft-style rock walls. Be warned though, the ladies and gents bathrooms are both unmarked. Gents is on the left when facing towards the bar and ladies, on the right.

From here we set off through Kelvingrove Park to our next destination.

Dram is a typically trendy Glasgow pub. Decked out in the preserved heads of local wildlife mounted on the walls, (not for the faint hearted or vegans among us), it attracts a mixed bag of people. As it's situated opposite the St Andrew's campus of Glasgow University, they sell loads of fancy student-y drinks, but they also have a fucking mean whisky selection. We set up shop here for an hour, watching the bartender cry as we order 32 drinks, and chat about our year.

Braving the Glasgow chill again, we leave Dram and embark on the short walk to The Doublet. Small in size, massive in character, The Doublet is a cosy pub, attracting mostly elder gentlemen. Not the best whisky selection here, and the dram we all had was by far the worst malt in the history of the Whisky Trail. But we drank it anyway, because complaining is strictly prohibited and punishable by death.

Next stop is Oran Mhor. Oran Mhor is more than just a bar. Its stature in Glasgow is legendary. Built inside a converted gothic church, it looks unwelcoming and eerie from the outside, but when you step in the door and hear the music and feel the warmth, you feel right at home. This is usually the busiest of all the bars we stop at, and tonight is no different. As usual, we all squeezed in to the corner table, and once again had a chat with the people at the table next to us. 2 American girls and 2 Scottish guys, probably students at the university, were curious to know what the dress code was all about. We happily told them about our tradition and we shared a toast. We normally get some finger food in Oran Mhor, but not tonight. We had bigger plans.

The Griffin sits opposite the Kings Theatre on Bath Street. It has live music, a piano, great food and allegedly a resident ghost. We ordered 16 portions of an old Scottish favourite, mince 'n' tatties. Beef mince in gravy, mashed potatoes and a side of mushy peas. Nothing fancy here, but on a cold day, you wouldn't want anything else. There was a table at the opposite end of the restaurant from us, where one of the diners was a gorgeous blonde girl wearing a shimmery red dress. Myself, and my companions were all pretty smashed by this point, so every time she stood up to go to the bar or bathroom, all 16 of us sang Eric Clapton's "Lady in Red". It wasn't long before her face was the same colour as her dress, but she laughed it off like a good sport.

Now that we'd all been fed and watered, we were ready for more whisky. The beauty of the Whisky Trail is that all the walking between bars in the winter air keeps everyone from getting TOO drunk. Nobody ever has to get sent home early in a taxi, which is always a good thing.

The next bar was Steps in Glassford Street. Steps is another proper Glasgow pub, crowded by 70-something year olds who have been drinking in the same bar for decades. This gives it character and everyone has a story. One ex Glasgow politician, who was a daily customer at Steps, actually died in the bar, sitting at the stool he'd sat at every day for 25 years. As we sat in Steps enjoying our drinks, the heavens opened and drenched the city with a torrential downpour. We never doubted ourselves for a moment. "Right, guys, hats on and let's get going." Next stop was the Pot Still.

Pot Still is a great bar for whisky aficionados. They have an awesome selection. Only problem is that it's so fucking crowded every year. We all stood, shoulder to shoulder, and drank quickly so we could get out for some breathing space. It's a shame that Pot Still is always so busy because it's a fantastic pub. There's a big hairy highland man in a kilt behind the bar who can pretty much answer any question you could think of about any type of whisky. He's a true expert in his field and one of the finest bartenders I've encountered. I recommend that anyone who wants to learn about malt whisky skip all those cheesy expensive tasting sessions. Go to the Pot Still when it's quiet and have a chat with the bartender. He'll keep you right.

Babbity Bowsers was next. We braved the rain again and stopped in just at the end of the quiz. Any pub with a quiz is a good pub, but we're glad we only caught the end of it because we were in no mood to keep quiet. We ordered sixteen Glenmorangies, fired one each to two American tourists and sat round the tables to take stock of the day. The next and final bar was a busy one with loud music, so there wouldn't be much conversation there. Sipping our whisky and discussing the events of a perfect day in the city, I felt an air of contentment emitting from the group. A few guys left, and the remainder of us braved the rain one last time to head over to Maggie Mays.

As soon as we got in, Uncle John and I went to the bar and ordered 2 Jaeger shots, 2 whiskies and 2 beers.

The rest was history.