Thailand & Laos – "No woman no cry, no whisky I die."
By Geertrui Tavernier
Diving photos: Isabell N Wedin
Trip through North Thailand, slow boat over the border to Luang Prabang (Laos)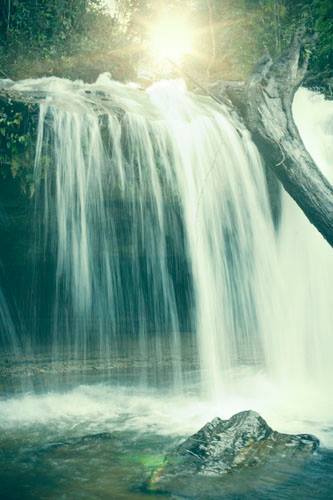 Embassy warnings advising tourists to stay away from Thailand's capital because of alleged 'dangerous' anti-government protests, didn't stop my Swedish photographer friend Isabell from meeting me in Bangkok to join me during a part of my trip.
First stop, the island of Koh Chang, a 6-hour bus & ferry ride away from Bangkok. White sand beaches, tasty food, bamboo huts, chill parties serving alcoholic drinks in buckets and laidback people – a perfect setting to shed off what King Winter had imposed.
After several days of enjoying the sweetness of doing absolutely nothing, we headed back to buzzing Bangkok. Oh, you have to be dazzled by this layer cake of cultures. Getting pampered in massage parlours at the end of days spent exploring the Chinese quarter, riding the Khlong Khong boats on the narrow waterways, visiting some of the many, many temples or shopping for a year-long supply of clothes, accessories, home-deco, travel equipment or whatever you can think of at the Chatuchak market, is a must.
You'll need some quietness after a while though. That's why we took the night train up north to Chiang Mai. A very pleasant experience as such indeed. We admired the stunning views and shared our compartment with a lovely Belgian chef. We found the cutest (and quite cheap too) guesthouse within the 'square' of the centre, which featured a rooftop terrace with sun chairs and brightly coloured lamps – exactly how you want it to look like. It was our base from where we set out for cooking classes, city strolls and most impressively, a trekking tour in the mountainous surroundings of Chiang Mai.
The latter was a two-day arranged package and it started with an elephant ride – a horrible thing to do. Elephants are not meant to be ridden like that, repeating the same short trek several times a day. It left us with a bitter feeling, ashamed we had supported this tourist trap.
The lush green during the trek to the remote village of the Karibi hill tribe uplifted our spirits again. Halfway, we took a dip in the refreshing pool under a waterfall, a magical quiet spot where the sunrays gently broke through the deck of leaves of the jungle trees above.
After a delicious home-cooked meal, we had some beers next to the bonfire, where a local old man shared his wisdom. "No woman no cry, no whisky I die," he grinned, revealing his teeth, coloured red-brown of a lifetime chewing betel nuts. The very cold night in the simple hut compelled Isabell and me to cuddle up close. Breakfast and the early morning trek brought heat into our bodies again, so we welcomed getting soaked during bamboo rafting.
Some pleasant encounters and thoughtful conversations on the rooftop of our hotel again concluded our trip. I am convinced: "Chiang Mai, I'll be back!"
The next morning, we boarded the 'slow boat' at the border in Laos. A two-day ride with an overnight stop in Pakbeng brought us to Luang Prabang. The views were breathtaking, the company a superb mix of joyous travellers. Music out of battery-powered speakers, a card-game and more than a few drinks resulted in a surprisingly good boat party.
Luang Prabang itself is a beautiful and relaxed little town. We were happy with the French influence on its cuisine, coming from its colonial times. We hired a bike and went to see some temples (yes, they are everywhere), crossed the Mekong river, made several stops at cosy riverside cafes and watched the sun set over the hills on the other side of the stream.
Then the moment came to part ways again. Our travels together had been lovely and one thing is sure: we'll be travel buddies again, my dear!
For more crazy travel pictures by Isabell, click here to visit her blog.